Join us for Captive Insights an online webinar, Wed, 7 July 2021, 11:00 – 12:00. Register here.
Our captive industry specialists share insights into captive insurance solutions and innovations on the Isle of Man, plus live panel Q&A.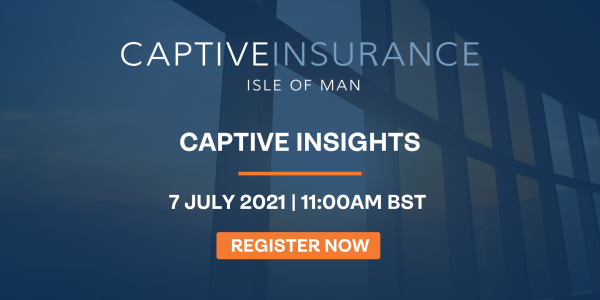 About Captive Insights
Join our panel of captive owners and industry specialists as they delve into discussions around the Isle of Man's captive insurance solutions and latest innovations. Featuring a live Q&A, giving you opportunity to put your captive questions to our panel of experts.
Captive Insights will be hosted by Tracey Skinner, AIRMIC Chair and Director of Insurance and Risk Financing, BT Group PLC. As the Isle of Man is the domicile of choice for BT's captive, Tracey is well-versed in the Island's captive expertise.
Taking stock on the current climate and the insurance market challenges facing many businesses, Ben Waterton, Professional Indemnity Insurance Specialist at Gallagher shares with us his thoughts of the current insurance landscape.
Providing insight into the ongoing collaborations across the Isle of Man's captive insurance ecosystem our industry experts Nick Gale, Chair of the Isle of Man Captive Association and Simon Nicholas, Partner, KPMG Isle of Man. Nick and Simon will be joined by the Isle of Man Financial Services Authority to discuss the business benefits and impacts of the upcoming ground-breaking changes to the Island's regulatory environment.
Discover how the Isle of Man's captive industry is creating innovative solutions that are adaptable to the ever-changing risk needs of its clients from Chris Till, CEO, Standard Bank, Isle of Man. Chris will be joining Ross Dennett, Chairman at Thomas Miller sharing insight into how Standard Bank has utilised its captive for the last 25 years to pro-actively manage risk.
Live Q&A
Ask our panel of experts your captive insurance questions:
Tracey Skinner, AIRMIC Chair and Director or Insurance and Risk Financing, BT Group PLC
Chris Till, CEO, Standard Bank Isle of Man
Nick Gale, Chair, Isle of Man Captive Association and Senior Vice President, Marsh
Richard Bray, Client Services Director, AON
Simon Nicholas, Partner, KPMG Isle of Man
With thanks to our event hosts, Studio ONE