Environmental, Social and Governance (ESG) factors across all business sectors are now, rightly, becoming a fixed and significant item on the board agenda and captive insurance companies must be alive to the role they will play going forward.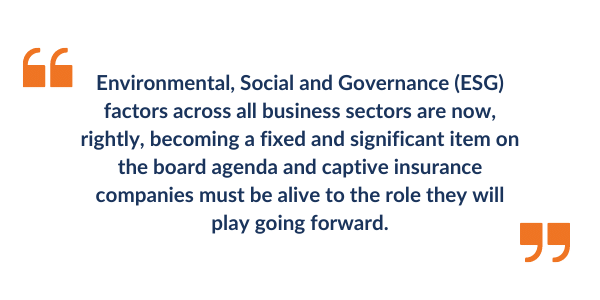 Certainly, in relation to pure captives, the tone is most likely to be set by the parent and for those progressive companies in pursuit of ESG excellence, they will seek common standards and reporting all the way down through the ownership structure. An Isle of Man captive subsidiary can present a significant head start in this respect.
The governance aspect of ESG is, of course, integral to Isle of Man captives by virtue of the regulatory eminence of the jurisdiction.
For environmental considerations a captive couldn't be better located since the Isle of Man as a nation has been granted UNESCO Biosphere status – the only entire nation to have done so. Inherent in that is a commitment to:
· protecting natural resources
· developing the economy in a sustainable way
· making an environmental impact wherever possible
· engaging with the local community
· promoting the Island's cultural heritage
This establishes an overarching ESG roadmap for the Island's government and citizens, both individual and corporate. The Island's regulator, the Financial Services Authority, is committed too. As an organisation, its stated intention is to reduce its impact on the environment but it also seeks to consider, through its supervisory work, how best to understand insurers' approaches to climate risk and guard against firms or products that are inaccurately held out to be environmentally-friendly (so called 'greenwashing').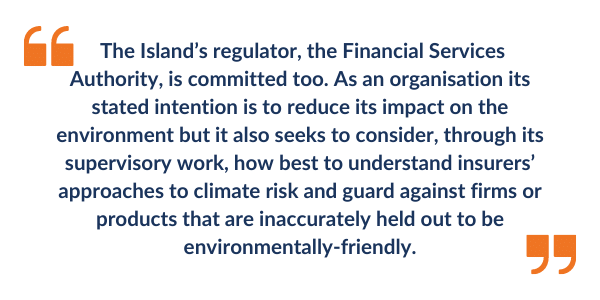 Captives on the Isle of Man are primarily run by insurance managers, most of whom form part of larger global groups with highly-developed ESG policies which envelop their respective Isle of Man offices. The boutique managers, too, can demonstrate deep social connections and responsibilities to their wider local community.
Captive insurance companies are, of course, large scale investors in financial markets and are coming under pressure from their parent companies to do so in a manner that reflects ESG policies. This is a tricky area for captives given the link between the insurer's investments and solvency but solutions are emerging. ESG concerns will often similarly apply in the placement of reinsurance but again the Isle of Man industry is alive to the challenge.
The vicissitudes of captive management make the ESG journey a complex one but here in the Isle of Man, we are ready for the challenge.