Digitising Captives: Window Dressing or Essential Development?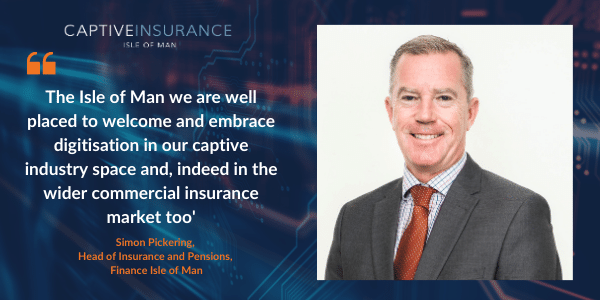 Simon Pickering, Head of Insurance and Pensions, Finance Isle of Man discusses digitising captives and the Isle of Man's position.
Technological transformation in insurance is now in full swing, having taken a while to find its feet compared with other financial services specialisms. 'Insurtech' embraces all touchpoints across the insurance value chain, from underwriting to intermediation, onboarding and claims. The considerable muscle of data analytics, AI and payment gateways are being flexed more than ever before to both disrupt and enable traditional insurance delivery.
But what does this mean for Captives?
There is an argument that 'pure captives', with a single insured entity, perhaps don't benefit from digitisation to anywhere near the same extent that large scale commercial insurance solutions do. And some would suggest that even pure captives with multiple risk lines or association captives might struggle with the cost-benefit analysis of a digitisation strategy, given the relatively confined nature of their activities.
Effective captive delivery is nevertheless a complex matter, involving navigation of challenging governance requirements, sophisticated financial analysis and reporting with constant re-evaluation of business modelling and assumptions. And where complexity exists, digital solutions are never far behind.
Isle of Man's Captive Insurance sector welcomes digitalisation.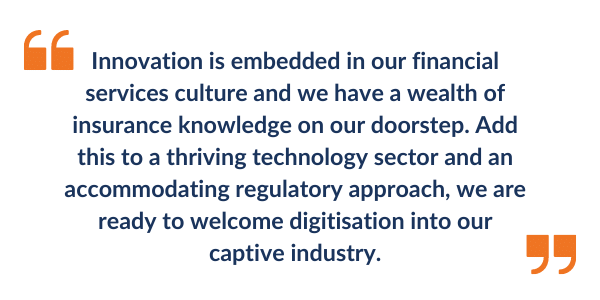 Fortunately, in the Isle of Man we are well placed to welcome and embrace digitisation in our captive industry space and, indeed in the wider commercial insurance market too. Innovation is embedded in our financial services culture and we have a wealth of insurance knowledge on our doorstep. Add this to a thriving technology sector and an accommodating regulatory approach, we are ready to welcome digitisation into our captive industry.
Click here to find out more about the Isle of Man's Captive Insurance Industry.