The emergence of Covid-19 has had a devastating impact of global economies and by extension an impact on the insurance industry with changes in the demand for insurance, ongoing discussions around the validity of certain insurance clauses (particularly under business interruption policies), and the investment decisions and performance of (re)insurance companies.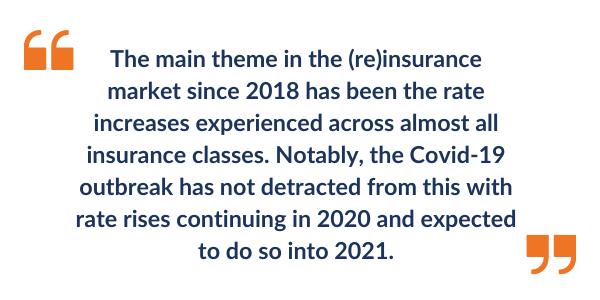 The main theme in the (re)insurance market since 2018 has been the rate increases experienced across almost all insurance classes. Notably, the Covid-19 outbreak has not detracted from this with rate rises continuing in 2020 and expected to do so into 2021. The ultimate impact on claims experience from Covid-19 has been a constant source of discussion with business interruption coverage at the forefront
Key findings, using a representative sample of policy wordings, found most, but not all, to provide cover for Covid-19 under the disease clauses with the FCA also stating specific denial of access clauses provided cover stating "This depends on the detailed wording of the clause and how the business was affected by the Government response to the pandemic, including for example whether the business was subject to a mandatory closure order and whether the business was ordered to close completely.
The recent Supreme Court decision in favour of the FCA in the UK will also add to the overall pressure on pricing and capacity. It is estimated that around 370,000 policyholders with over 700 types of policies may be affected by this decision. Composite insurers within the UK are expected to be the hardest hit.
Market Conditions Year to Date and Covid19 Impact - Insurers forecasting significant losses relating to covid19
Lloyds estimating industry loss of $107 billion
Predicting an investment loss of $93 billion
Swiss Re reported a $476m covid19 loss and $300m investment loss
Zurich already booked $280m in covid19 P&C claims and forecasting a 2020 total of $750m
Reported 20% decrease in capital in the reinsurance market
Find out more about the utilisation of captives in the current insurance market.